#1 in Los Angeles Custom Workout Equipment
HOMEBELLS HEALTH CLUB
We are a beach pop-up gym every Sunday down in Santa Monica with Southern California's best trainers. 
What to expect:
- We turn the beach into a fitness festival-like experience. 🎊 
- Great Music with one of the most EXCLUSIVE bluetooth speakers on the market. 🔊
- Full Body Workout Camp! We use body weight and the Homebells to get you in the best shape while soaking up the fresh California beach air and get your Vitamin D & SEA! 😉🌊
- Competition based relays for all skill levels for an ultimate sandy battle. 🏖
-Tug-of-WAR to end such a legendary workout!
- We bring the water and have fresh fruit to conclude your workout and hydrate the body. 🍉🍍
Come be apart of the family! 🏋️‍♀️
Class Schedule:
EVERY SUNDAY - 12PM
Location:
101 Hollister Ave, Santa Monica CA. 90405
Find us to the Right of the Beach Cafe down in Santa Monica!!
Join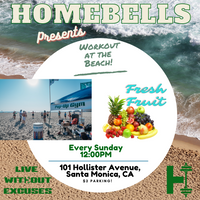 Official Commercial Launch